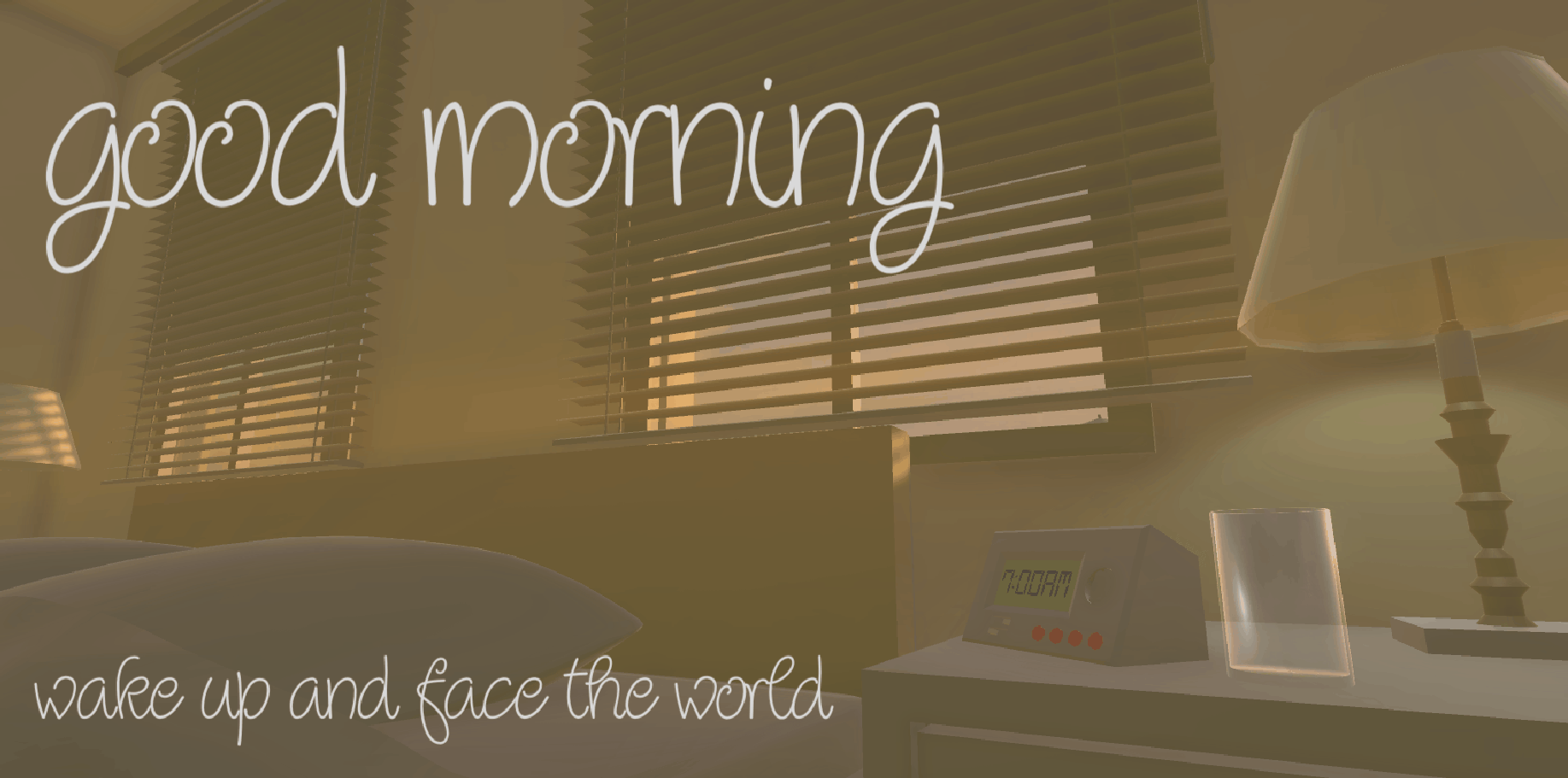 Good Morning - Revisited
A downloadable game for Windows and macOS
Good Morning - Revisited
Good Morning has just recieved a massive internal makeover! It may not show much on the outside, but with this update all the issues the game had previously faced are now gone.
Key items can now be picked up and dropped.
Doors will open and close .
Your character will now periodically blink.
The alarm clock will now scale in real time, showing you how long you've been playing!
The crosshair is the new system for telling what you can be doing, it will pulse if you are looking at something you can interact with.
A dedicated options menu for when the game is paused which allows you to change the master volume, field of view, X & Y sensitivities, and invert the camera axis.
Optimisation changes have given the game a boost in performance.
Main menu appearance changes to better fit the theme of the game.
Unique approaches to certain objectives, like putting the milk in the cereal bowl before the cereal.
The ability to play on either gamepad or mouse and keyboard.
And overall a much smoother experience when it comes to interactions.
We would like to thank you for playing Good Morning. This has been a huge passion project for us, since it originally began as a project 2 years ago, but we thought it was finally time to give it the wake up it needed.
Synopsis -

Everybody has their morning routine, it seems almost impossible to start your day without one! Good Morning is all about what you do before you face the world for the day. It aims to nail the aesthetic of early morning, roughly 7AM, using bright and orange colours to put you in that mental timestate so you really feel like this is really you preparing for the day. That game offers a sweet nostalgic feeling by letting the player complete their morning tasks step-by-step, like taking a shower or making some coffee. Good Morning wants you feel like you're in your home doing your thing.
Credits -

Levi Stenton - Level Designer, Designer & Programmer for Good Morning: Revisited
Jacob Blanch - Level Designer, Project Manager
Alex Luthe - Systems Programmer
Tye Bryant - Systems Programmer
Josh Gunston - Playtester
Stuart Creighton - Playtester
All models have been sourced from
http://www.sweethome3d.com/freeModels.jsp
and all credit goes to the according creators.

All audio has been sourced from
http://freesound.org/
and all credit goes to the according creators.
Download
Click download now to get access to the following files:
good-morning-win.zip
60 MB
good-morning-mac.zip
65 MB